Conditions d'Utilisation
Terms of Website Use & Conditions
Before you navigate on terrarealestate.com please read the Terms of Use of our website. By using our website and filling the web form, we consider you agree to be bound by our Terms of Use. If it's not the case, you should avoid using our website.
TERRA Real Estate Emlak İnşaat Limited Şirketi ("TERRA Real Estate", "we", or "us") collect and ensure the data security in accordance to Law on the Protection of Personal Data of 7th April 2016
Modifications on Our Terms and Website
TERRA Real Estate reserves the right to modify and discontinue the Terms of Use at any time. Consequently, verify the Terms of Use every time you visit www. terrarealestate.com and make sure you understand them while browsing.
Who Are We?
TERRA Real Estate is a Turkish company legally registered as TERRA Real Estate Emlak İnşaat Limited Şirketi (Mersis nr: 0840039341900012). TERRA Real Estate is a member of the Alanya Chamber of Commerce and Industry (Membership number: 19826).
TERRA Real Estate is a Registered Real Estate Agency & Property Developer is headquartered in Atatürk Boulevard 62, 07400 Alanya, Turkey. Our European Head Office is situated on Energigatan 4, 434 37 Kungsbacka, Sweden. The company is legally registered as TERRA Real Estate AB (Org. Nr: 556940-1473)
TERRA Real Estate employs highly skilled multi-lingual professionals with substantial experience in all the relevant competencies involving residential, commercial, and mixed-use developments.
Purpose of Website
TERRA Real Estate makes Internet publications under various domains, in various languages.
Submitting the services of TERRA Real Estate in different languages

Informing about real estate purchase

Publishing property advertisements

Publishing news and articles concerning the real estate market.
Cookie Policy
Cookies are small files keeping a certain amount of web data. Cookie data help us to customize our website, then to improve the performance and collect some statistical data. For more information, visit our Cookie Policy page.
Why We Collect Your Data?
As a real estate company, TERRA Real Estate collects data for the following reasons:
Personal information like name, surname, telephone number, and e-mail are collected for better communication and to send our hot offers via newsletter to your email address.

Marketing, retargeting, and communication collect demographic data to define user's points of interest

Information is provided by social media such as Facebook, Twitter, LinkedIn, Instagram to ensure a better experience on our website.

Information related to the location provided by IP address allows suggesting the properties or nearest offices accordingly.
All data collected through our website, shared with your own will, can be seen only by authorized persons (administration and pre-sales and after-sales real estate agent). Your personal data is never shared with third parties except by selling the property.
By filling the webform or writing an email on the address published on our website, we assume that you accept receiving the information, offer, or newsletter emails concerning your query.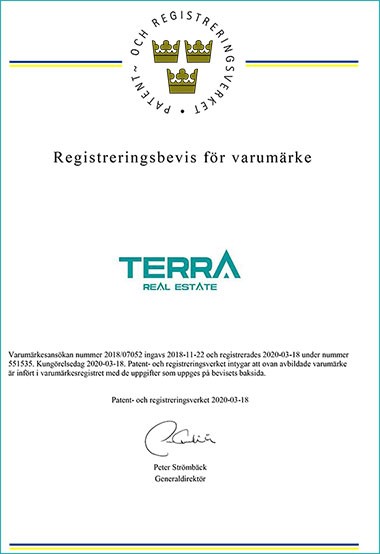 User's Privacy
The collected data is used only for house sales restriction purposes. All information such as title deed after buying a home, identity information, tax number, and other signed documents can be seen by authorized personnel only. We reserve the right to call you, send an email or newsletter concerning the properties you are interested in. For more information, visit our Privacy Policy page.
Respect for Intellectual Property Rights of TERRA Real Estate

®
Any copying or reproducing of our website content is unlawful. Our content may be used for private use only and only by indicating our website as the source of the content. Ourselves, we create all content accordingly to our guidelines and all publications are our own production.
We respect Digital Millennium Copyright Act and we defend our uniqueness with DMCA.
Trademark Policy
TERRA Real Estate ® is a registered trademark. No one in the real estate sector can use our logo and trademark.
Customer Feedback
Any feedback from our customers is more than welcome. Any queries, questions, and complaints related to TERRA Real Estate please forward to the following address:
TERRA Real Estate legal notice address: Atatürk Blvd. 62 07 400 Alanya Turkey
Phone: +90 242 512 25 00
E-mail: [email protected]