Furniture Shopping Tour in Turkey
Interior Design and Home Decoration of Your Property
You are just one step away from settling in your new home, but still, we have many services to offer our clients to reach the maximum level of comfort in their house. Are you ready for your final step before moving in?
In TERRA real estate we don't just help you to find your dream home, we also have after-sales services that make all your house dreams easily achievable. One of the after-sales services that we offer is the furniture tour in Turkey for our clients ready to move to their new homes.
After buying a property in Turkey, clients start wondering about how to start preparing their Turkish property for a living. Furniture services in Turkey can be tricky and you might end up losing extra effort when you don't have a professional guide.
In TERRA Real Estate we help you to furnish your property the way you have always dreamed of according to your taste and budget. Working for many years in this sector, we know where to find the best quality and prices for furniture. Our customer relationship is also excellent in this matter with our team's background in design that will make sure furnishing your new home is up to style. So, don't worry too much about this stage and enjoy Turkish property furnishing with us.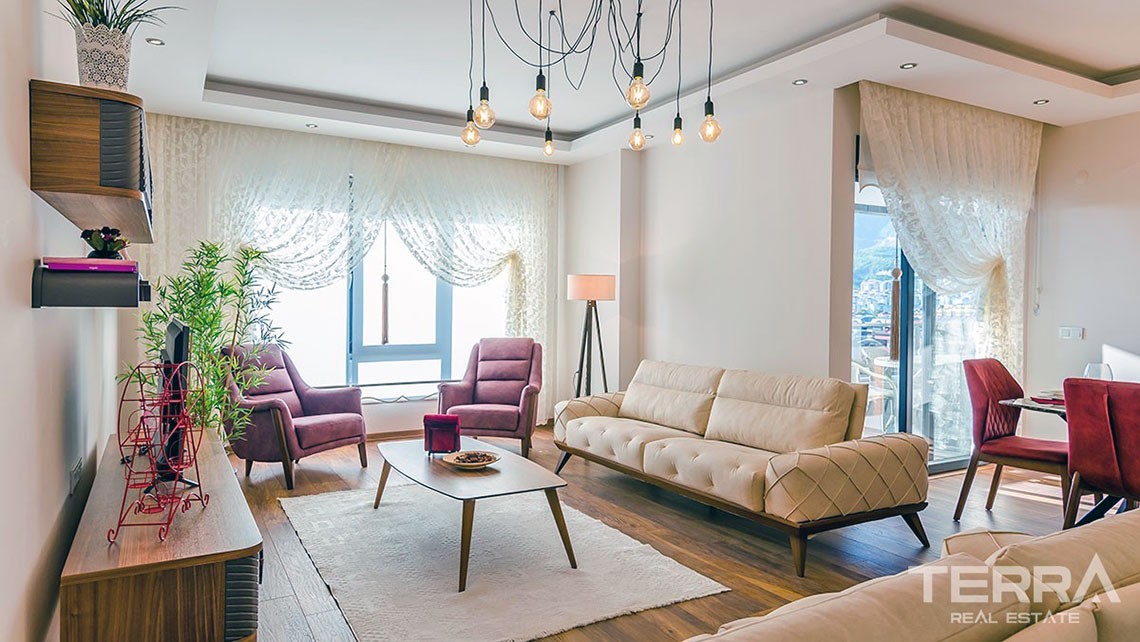 What Do We Offer?
Part of the after-sales process is assisting you with property furnishing. This is one of the unique features of buying a property with TERRA Real Estate. After finalizing the sales process, our team will help you by connecting you to trustable furniture suppliers offering the best prices in the city saving you time, effort, and money. For all types of home furniture from coffee tables to interior design, TERRA will be right next to you.
How is this Service Done?
After discussing with you the type of furniture and quality you need, we preview furniture options for you via catalogs, brochures, and websites to determine which furniture suppliers match your budget. With our professional customer service, we keep you updated about new offers and trends when it comes to furnishing your new house.
The furniture tour includes searching for white goods, electrical and kitchen appliances, bedroom furniture, dining tables, and living room furniture, garden furniture, and decorations. We also assist you in finding suitable interior and exterior light fixtures for the gardens.
Getting your holiday home or apartment ready to move in with TERRA Real Estate will save you time and effort. Therefore we would like to assist you to make this process as smooth as possible for you.
Still, considering other types of apartments for sale in Turkey or want to see more properties before buying a Turkish house? Our property list is updated each day adding new listings in different Turkish cities including sea view properties, detached houses, and affordable apartments.
If you want to know what other pre and after-sales services we offer, you can read more about it here.
TERRA Real Estate, The Real Estate Expert in Turkey
Regardless of where you prefer to buy a property in Turkey, the beauty of the country will always amaze you. Just choose where to buy real estate in Turkey in coherence to your budget, your lifestyle, and expectations.

When you have decided to buy real estate in Turkey, make sure that you have a reputed estate agency with good references and experience. TERRA Real Estate is a committed business member of the Association of International Property Professionals (AIPP) and is regulated by the Property Ombudsman.
As one of the pioneers in the Turkish Real Estate Market, we are confident that our wide real estate portfolio continuously offers unique opportunities. We do not only offer homes for sale in Turkey but also offer affordable luxury apartments in Turkey.
Interested in property purchase in Turkey? Having a matter related to the real estate market in Turkey? Please feel free to contact us for any inquiries regarding places to buy Turkish properties.
Are you in Turkey now and want to see the properties?
For arranging a property viewing in Turkey,
Call us at +90 242 512 25 00,
Call us for free via WhatsApp +90 532 341 67 54.
We will be happy to come to your accommodation/hotel and pick you up for free and non-committal viewing.