Buying Real Estate in Turkey
How to Buy Property in Turkey - Buyer Guide of Real Estate in Turkey step by step
Property purchases in Turkey for foreigners is a very easy process with TERRA Real Estate and its extensive experience and knowledge in the Turkish Real Estate Market.
It is naturally not very easy for you to know where to buy and which properties represent a good value, investment can be time-consuming and confusing, challenging especially when you are buying a property abroad. As a real estate buyer you maybe asking yourself many questions such as can foreigners buy property in Turkey. But don't worry TERRA Real Estate is here to guide and help you throughout the whole process.
Our step-by-step guide about buying property in Turkey will guide you through the entire property buying process in Turkey, from searching for the ideal property to ensuring the paperwork is in order and closing the deal. Here we explain step by step all you need to know about before/while/after buying a property in Turkey.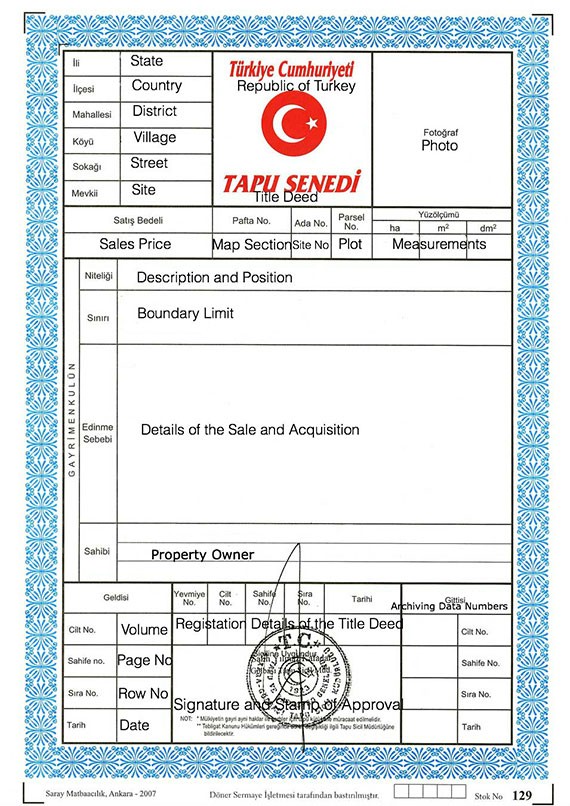 Buying a Property in Turkey - Pre-sales
When you are impressed by our properties and would like to take a closer look at, we can arrange a date within your holiday plan and offer a viewing tour to see them on site. We will assign one of our agents, arrange viewing tour for you and will answer your questions; location, amenities, facilities and features of the development. Please find out the details about Viewing Trips to Turkey
Mortgage in Turkey
Foreign nationals and Turks living abroad can easily access a wide range of Non-Resident Mortgage products both for residential or investment purposes.
TERRA Real Estate in cooperation with some of Turkey's high-street banks will be glad to help you to search and get a Turkish mortgage. Probably you ask yourself: can I get a mortgage for a property in Turkey. Indeed, foreign nationals can get mortgage from the Turkish Banks up to % 60-70 of the property's appraised value and are arranged in Euro, Dollar, GBR or Turkish Lira.
We recommend searching mortgages before coming to Turkey, so that you know exactly how much you need to spend on your dream villa or house. We also help our clients to make an installment payment plan without any interest rates directly with the construction companies if desired. Find out more about mortgage and finance in Turkey.
Property Viewing
TERRA Real Estate assigns a sales agent when the clients send an inquiry via our advertisements, website, property portals, sales partners etc. All of our real estate agents are highly skilled multi-lingual professionals with a good experience in real estate market. The same sales agent will be your contact person through the whole buying process.
Our estate agents pick the clients up from their hotel or accommodation, show the properties that they want to see. Our estate agents will always accompany the clients, if they wish with our comfortable car. We will never be pushy on you and we will listen to your wishes, requirements and try to find the perfect property in the Turkish Riviera. If you choose some of the properties, our agents will check whether the property have a debt or taxes or not.
During Sales - Signing the Sales Contract
When you reach an agreement to buy a property, the developer of the project or a property owners are also invited to our office and a purchase contract is prepared according to the property details and your wishes can be added upon the approval of the construction company.
We have sales contracts prepared by our lawyers, in Turkish and English (desired language can be added) and we will explain all parts and details before we all together sign them.
The contract will be signed by the buyer, the construction company and us (TERRA Real Estate). The contract will be in Turkish, in English and of course if they want in the buyer's mother language.
Down payment
After signing the contract, the buyer will make a down payment (deposit) that is usually of 10-15 % of the agreed purchase price.
Payments & Money Transfer
The buyer can make a payment plan after signing the sales contract with the developer and can transfer money the developer's bank account. The remaining payment of the property is paid as part of the take-over process. If the buyer wants, we can ask the developer to offer a good payment plan..
Obtaining a Turkish Tax Number
To buy a property in Turkey, you need to have a Turkish Tax Number. Our sales agent will help you get Turkish Tax Number from the Tax Administration Office.
Opening a Bank Account
You need to open a bank account in Turkey to make money transfer, pay taxes and the utilities and etc. Your assigned sales agent will help you to open a bank account in Turkey.
Power of Attorney
Power of Attorney means "You may act on behalf of me for these powers" Your name and picture will be on the Title Deeds (Tapu). If the buyer wishes, she or he can give power of attorney in Public Notary in Alanya to us in order to obtain ISKAN and make water/electric subscriptions and follow other matters. The buyer, a sworn translator should be in the Public Notary Office and this process takes about 1 hour. By giving power of attorney, you avoid travelling several times to Turkey. We highly recommend you give only the needed powers such as buying the property, making subscriptions of water/electricity/gas and etc...
Expenses of Buying Real Estate in Turkey
Title Deed Expenses is 4% of the declared Value. (The Turkish government has reduced it to 3% till June 2019)
Annual property tax is approximately 40–50 Euro.
Electricity and water subscriptions is approximately 150–200 Euro.
Depending on the facilities and number of apartments in the complex, maintenance fee is between 30-50 Euro.
We do not charge any commission from the new properties since in most cases, it is paid by the seller or property developer. However, we charge only 3% commission from resale properties, as all Turkish agencies do. In most cases it is included, if not our agent informs you when viewing the property.
After Sales
Tapu, Iskan, POA, Electric & Water/Gas Subscriptions, Insurance
Tapu:
Tapu is an official document that shows your ownership over the property and is issued by Land Registry Office. It is the most important document since it is the proof of ownership of the property
Iskan:
Iskan is Habitation Certificate that includes all technical information, approved by the State Committee in the local Municipality.
At mentioned above; the buyer can give Power of Attorney to make new subscriptions of water/electricity/gas and follow the procedures related to the property. Our assigned real estate agent will help you to make subscription of electric, water, gas, telephone, internet etc.
Property Updates/Construction Update
If you buy a Turkish property that is under-construction, our company will always update and inform you about the development, send you updates; photos and videos about the project status. The construction companies that we work for years are committed to their job and deliver the key on time. If you a special request regarding the interior design, furnishing and furniture, the developer company will be glad to help you.
Property Inspection
We will accompany the buyer to see the properties, surrounding area and take note of your wishes, requirements, (If there is) places to be furnished or designed and ask them to do properly. We inform the buyer when we found faults and defects that they have not discovered and ask the developer to repair/furnish/fix it. Do not forget that we are always on the buyer's side.
Moving in to your new home in Turkey
The brand-new apartments will be ready to move in. Apartments used before will be ready to move in also, yet if the buyer have a request to be furnished/designed we will ask the developer to make them in one or two days after signing the contract. We will add those issues on the sales contract. Some of the residential complexes have rules defined by property management. As an owner you need to be familiar with them.
You are always welcome to drink a coffee in our office after you move into your dream home.
Furnishing in Turkey
TERRA Real Estate cooperates with the well-known furnishing companies in Turkey such as Moda Life, Koleksiyon, Alfemo, Doğtaş Beko, Vestel, Yataş, Bellona and etc. Since we have contracts with them and work with them for years, they make good discounts to our customers. The buyer will choose the furniture style and the furnishing company will deliver them whenever the buyer wants.
Renting and Letting
As most of the properties in Turkey are freehold properties, there is no restriction for letting the properties. You can let your property how long you want to anybody you wish.
Re-sale
TERRA Real Estate can re-sale your property that you bought. Since we have access to a huge market and good local partners in the region, we can easily sell your real estate in a few days.
Our Selling Power
TERRA Real Estate is a member of the Association of International Property Professionals (AIPP) assuring you that we operate with honesty, integrity and transparency. We have been working with Turkish construction companies/property developers in Turkey since 2004 and have a good experience of selling properties to foreign nationals. Our company TERRA Real Estate is the market leader especially in selling villas in Alanya and sea-front apartments in Alanya.
Advertisements
We advertise on the UK's leading overseas property media "A Place in the Sun" and "Zoopla", a number of portals in Scandinavia and Turkey's most popular real estate portals.
Modern Website
Our website is in 8 languages. Manually edited and translated. We have an online chat support for our clients to get an answer about the property listings instantly.
The property prices on our website are listed in TRY, EURO, USD, GBP, TRY, SEK, DKK & NOK.
Built on the latest technology meeting the latest requirements of the modern world and hosted globally with CDN. We spend a lot of time and energy to keep it up to date every day.
Global Partners
We have partner companies in USA, England, Germany, Sweden, Norway, Cyprus and Spain.
Local Partners
Not only the landlords or the property developers but we have a wide local network of private property investors and estate agents. In most cases we can access most properties in the market even if they are not listed with us if they do fulfill our requirements.
Do you still have Questions about Buying Property in Turkey for Foreigners?
For further information on buying Real Estate in Turkey,
Call us at +90 242 512 25 00
You can call us for free via WhatsApp or Viber at +90 532 341 67 54 as well.
We will be happy to answer your questions.