With its desirable coastline, Bodrum is a stunning area of natural splendor, culture, and prospects. Both locals and visitors from overseas are drawn to this destination for the Aegean lifestyle or to invest in real estate.
Bodrum, Turkey is composed of several districts, all having their own particular characteristics and attractions. These districts include Bodrum Center, Bodrum Peninsula, Yalıkavak, Gümüşlük, Turgutreis, Göltürkbükü, Bitez, and Gümbet.
If we need to mention those places briefly for you to understand better living at Bodrum we may consider Bodrum Center as a perfect example area. At the heart of the city, Bodrum Center has waterfront spots, cultural sites, and exciting nightlife amenities. Additionally, this district has many charming features, including fancy amenities, luxurious homes, a private marina, a calm fishing village, and numerous facilities like restaurants, shops, beaches, water activities, and various dining options.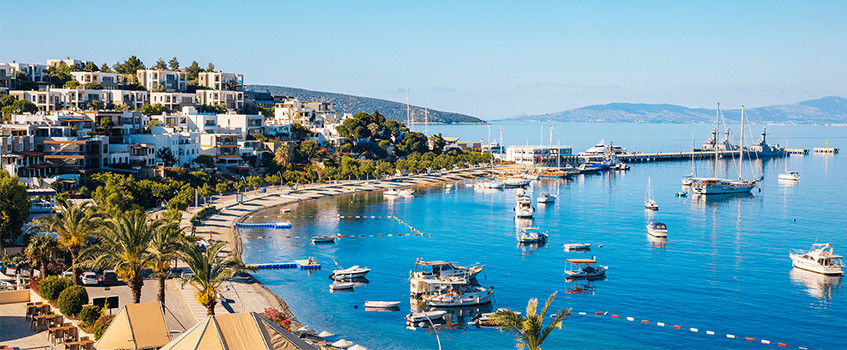 What Makes Bodrum So Attractive for a Second Stay or a Permanent Life?
Have you ever dreamed of going abroad on holiday and staying in a chic and comfortable holiday home? The Bodrum property market, which is situated in a vibrant coastal city on Turkey's Aegean Sea, has become increasingly popular among foreigners who want to own a holiday home or a permanent residence in this wonderful city. As stunning landscapes, gorgeous beaches, and a vibrant atmosphere are some of the characteristics that this region offers, purchasing property in this area can be a complex process due to unfamiliar laws in the region. There are several reasons why purchasing property in Bodrum is so appealing, and they are mentioned briefly below:
Real Estate Opportunities: Bodrum offers a variety of housing options, from traditional stone houses in the old town to modern villas and apartments. While some areas are upscale and luxurious, there are also more affordable options, making it accessible to a range of budgets.
Investment Opportunity: Because Bodrum is a popular tourist spot, it's also a great place to invest in property. The rental market is active here which brings opportunities for rental income and long-term property value growth.
Stunning Natural Beauty: Bodrum is known for its breathtaking landscapes, including crystal-clear blue waters, sandy beaches, and lush green hills. The Mediterranean climate ensures mild winters and warm summers, making it a year-round destination for those seeking a pleasant climate.
Proximity and Access: Bodrum's central location on the Bodrum Peninsula makes it easy to explore the region's beaches, historical sites, and natural beauty. The town's compact layout makes it relatively easy to navigate, and there are transportation options for different budgets and preferences. Additionally, whether you prefer to travel by air, sea, or land, Bodrum provides multiple options to suit your inner-city travel needs.
Cosmopolitan Lifestyle: Bodrum has a cosmopolitan atmosphere, attracting people from all over the world. This diverse expat community creates a dynamic and inclusive environment where people of various backgrounds can feel welcome and connected.
Relaxation: Bodrum offers a laid-back lifestyle that promotes relaxation and well-being. The slower pace of life, stunning sunsets, and the option to enjoy traditional Turkish baths (hammams) contribute to a sense of tranquility.
Nightlife: Bodrum offers a relaxed lifestyle away from a bustling city, while also maintaining its vibrant nightlife. The region has a vibrant and diverse nightlife scene that caters to a wide range of tastes and preferences. Whether you enjoy relaxing evenings by the sea, dancing the night away in clubs, or sipping cocktails in trendy bars, Bodrum has something to offer such as beachfront bars and clubs, bar street, live music venues, karaoke bars, etc.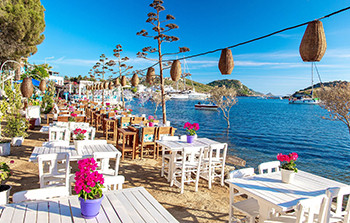 Culinary Delights: Turkish cuisine is renowned for its delicious flavors and variety. Bodrum offers a wide range of dining options, from traditional Turkish dishes to international cuisine. Fresh seafood, local olive oil, and Turkish meze are just a few highlights.
Rich History and Culture: Bodrum has a rich history dating back to ancient times when it was known as Halicarnassus. It's home to the famous Mausoleum at Halicarnassus, one of the Seven Wonders of the Ancient World. The town also boasts a vibrant cultural scene, with numerous museums, art galleries, and historical sites.
Safety and Stability: Turkey, in general, is known for its political stability and safety. Bodrum is considered a safe destination, and its residents often feel secure and comfortable living there.
Maritime Activities: With its beautiful coastline and marinas, Bodrum is a paradise for water sports enthusiasts. Sailing, windsurfing, scuba diving, and boat trips are popular activities, making it an ideal destination for those who love the sea.
Healthcare and Education: Bodrum has modern healthcare facilities and international schools, making it suitable for families looking to relocate. The presence of quality healthcare and education services can be a significant factor for permanent residency.
In a nutshell, owning a property in Bodrum offers you the chance to enjoy a coastal lifestyle, a rich cultural heritage, and the opportunity to realize your investment potential. The diverse set of offerings in Bodrum makes it a true privilege to consider it as a second home, whether you are in it for retirement, summer getaways, or investment purposes. If you decide to invest in properties in any part of Bodrum, you will be rewarded with the beauty, accessibility, and cultural richness of the region.
Property Types in Bodrum
In the Bodrum property market, you will find multiple property types to meet the needs of various businesses. These include flats, detached houses, commercial areas and more. Considering that all types of structures can change over time due to the impact of economic and global events, it would not be proper to say a certain price for the properties. In addition, to offer a more detailed explanation of the property types, here are some examples of real estate in Bodrum, along with their respective qualities:
Villas and Apartments in Bodrum: There are many modern villas and apartments for sale in Bodrum that provide you with all the amenities that you could ask for in a dream home. The prices ranges start from affordable residences and extend to opulent estates featuring exclusive pools, expansive lawns, and panoramic views of the sea. It is important to note that these luxury real estate properties are designed with modern amenities and offer spacious living areas with ensuite bathrooms and Jacuzzis, as well as lovely gardens with terraces.
Famous White Houses of Bodrum: Bodrum houses are famous for their distinctive features: they are surrounded by vibrant bougainvillea flowers, and their doors and windows are painted blue. This unique style has become well-known over time. The reason why the doors and windows have been painted for years is to prevent the blue scorpion and similar pests from entering the interior of the house, and this is a belief that has been going on for many years.
Townhouses in Bodrum: Bodrum has a different residential architecture from other Anatolian settlements. This difference is made up of; architectural construction technique, material used, spatial organization, facade colors, roof cover, etc. components are available. This situation is quite different from other housing applications due to the geographical location of Bodrum Houses. Another characteristic element of Bodrum townhouses are courtyards and gardens. The courtyards and gardens, which are one of the main elements of Mediterranean architecture, are intertwined with the social environment of the people. Some of the townhouse types are:
Musandıralı House: The architectural layout features a rectangular plan, commonly associated with residences of individuals working with the land. Known as the "Musandır," a term meaning "closet," the Musandir room functions as a sleeping area. The building itself is divided into distinct upper and lower sections. The lower portion, designated as the lower house, serves purposes such as a kitchen or storage area. Meanwhile, the upper floor encompasses various other rooms intended for different functions. Typically, the toilet is situated externally within these dwellings.
Chios Type House: The chios type house has a rectangular plan, similar to the Musandralı House. It is an important factor that the house receives the sun in the morning, and therefore the entrance to the house is positioned facing the east of the sun. At the entrance, there is a room to the right and left of the open area. These rooms are used as kitchens, but in summer, the outdoor area of the house is preferred as a cooking area. In all Bodrum townhouses, the door-window ratios are the same. The part used as a toilet in these traditional houses is again on the outside of the house.
Tower House: It is known as the oldest type of house in Bodrum. In the old days, these houses were built outside the castle because the settlement inside the castle had become too crowded. These house structures are usually high-rise structures. With a square or close-to-square plan type, Bodrum tower houses have a barn on the ground floor.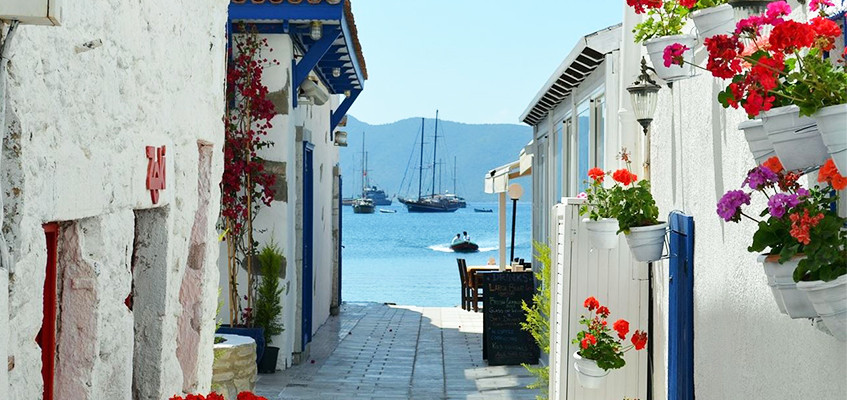 The Most Popular Neighborhoods to Buy a Property in Bodrum
The Bodrum peninsula is a popular destination with several holiday towns and resorts nestled along picturesque bays. In case you are thinking of buying property here, it is extremely important to understand what the various neighborhoods are like. Here are some key areas in Bodrum and what they offer:
Yalıkavak: It is a charming fishing village on the northwest coast of the peninsula, known for its tranquility, windmills, fresh fish, and beautiful views of the bay from its location. As a luxury marina, luxury restaurants, and high-end shopping, it is a perfect place for people who desire to live a luxurious life. There has been a significant increase in property prices due to the growing interest from foreign investors over the past few years which also affected this neighborhood of Bodrum
Bitez: Located on the southeast coast, Bitez has a long coastline and is a hotspot for windsurfing. Living here all year round is wonderful, with its beautiful scenery and pleasant weather.
Ortakent: Famous for its warm waters, sandy beaches, and Mandarin gardens, Ortakent is a charming destination on the south coast. It offers a mix of water sports and a long, beautiful beach.
Gümüşlük: Gümüşlük, on the west end of the peninsula, is known for its bays, historical artifacts, and clear waters. It's a peaceful retreat with a calm lifestyle where you might see traditional stone houses and modern villas.
Turgutreis: Located on the southwest end, Turgutreis is the second-largest town on the peninsula. It offers a developed harbor, a long sandy beach, and access to a variety of water activities.
Bodrum Center: The heart of the peninsula, Bodrum City Center, offers 5-star hotels, restaurants, cafes, and magnificent entertainment options. Featuring a vibrant and lively atmosphere, this is a perfect option for those who want to feel the pulse of action at all times.
Türkbükü: Known as the "Turkish St. Tropez," Turkbuku offers upscale beach clubs, luxury hotels, and a trendy atmosphere that becomes a hotspot for celebrities and upscale living.
Göltürkbükü: Located away from the center of Bodrum, Golturkbuku is renowned for its charming nature and tangerine gardens. It's a quiet corner perfect for a peaceful retreat.
Gümbet: Situated just outside Bodrum city, Gümbet is a budget-friendly area known for its water sports, basic hotels, and vibrant nightlife.
Yalıçiftlik: A quiet and traditional neighborhood of Bodrum, Yalıçiftlik is favored by Turks and offers a peaceful and rural lifestyle.
It's important to note that each area of Bodrum has its own distinct character and unique offerings, no matter if you're looking for luxury living, peaceful retreats, or vibrant nightlife. Ultimately, the choice you make will come down to what you prefer and what is most important to you.
Explore Our Properties for Sale in Bodrum
TERRA Real Estate ® is committed to providing you with the highest quality of service. We have a portfolio for all the neighborhoods in and around Bodrum, and we will help you choose the most suitable one from these portfolios based on your needs and preferences. Our professional sales agents are ready to help you with everything you need during the entire process of purchasing a home. From prestigious villas to small apartments located in quiet and cool areas of Bodrum, discover the right property according to your taste with us.
Start your search by viewing our properties for sale in Bodrum and contact us to buy.