The real estate market is vast and seems infinite. When you buy a property, you are undoubtedly making one of the most important decisions of your life. Perhaps you will analyze your one-time real estate investment possibility, in which case you should proceed with caution.
Istanbul, Antalya, Bodrum and Fethiye are among the most popular destinations for foreign nations property buyers in Turkey, where the construction industry is booming. Foreigners looking to buy property in Turkey may face a number of difficulties. Knowledge of the local market, planning licenses, title deeds, and where to find a respectable and trustworthy agency in a lesser-known country are all important. As a result, it's critical to hire a skilled real estate consulting firm.
When buying a home, using the services of a professional real estate agent can help you save money and time. A local real estate agent knows the market better than anyone else. You will undoubtedly appreciate this advantage, as well as the time and money you will save if you engage with the appropriate real estate agent.
In metropolitan areas such as Istanbul, many developed and developing regions make it difficult for purchasers to make decisions throughout the pre-and post-purchase periods. Having a real estate agent that is familiar with the local market, recognizes construction businesses, and can negotiate in your favour can assist you in purchasing real estate in Turkey.
Let's organize the knowledge about this issue below.
Top 5 Reasons to Hire a Real Estate Agent
1. Save time and money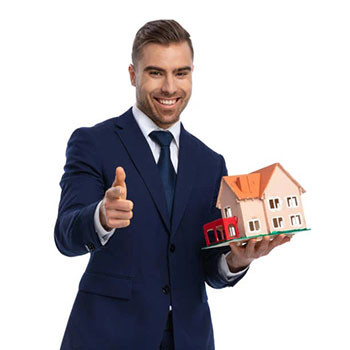 The most valuable precious resource is undoubted - time. The property purchase process may be time-consuming. You can escape the long and arduous road of buying property in a foreign country by using the expert assistance provided by real estate agents.
After learning about pricing differences, lengthy procedures, and a vast range of possibilities, you will appreciate the value of professional assistance. You may be able to save money on the purchase as a result of the real estate agent's negotiation, as they attempt to provide you with the best price.
You can also set power of attorney for your real estate agent, and avoid traveling to Turkey. You can buy your home totally online. How to do it? Read the related article on our website here.
2. Various and detailed portfolio
Thanks to the updated and wide portfolios prepared professionally and analyzed according to the target audiences, you can easily find the most suitable portfolio for your budget and the features you want. For this reason, working with real estate companies where the number of portfolios is high and well-analyzed will help you to find the right property for you and save time. TERRA Real Estate ® offers you with a wide range of portfolios on our website. View our latest properties for sale in Turkey.
3. The guaranteed and safe transaction process
Everyone wants to have a smooth purchase experience and to be able to make decisions with confidence. As a result, you should only engage with legal and professional real estate organizations, which can assure its consumers that the property they sell and the seller are trustworthy. This is one of the most critical stages for a stress-free investment and peace of mind.
During the title deed transfer, real estate advisors who have full and comprehensive knowledge of the purchasing and selling procedure of real estate make full and thorough declarations for the buyer and seller.
4. Exclusive "Pre-Sale" and "Post-Sale" services
TERRA Real Estate ® provides a variety of services prior to sales, including finding the most suitable project, arranging viewing tours, providing full explanations to answer all of your questions, applying for a mortgage, title deed transfer, lawyer help, taxes, and notary. After the purchase, we can assist you with utility, telephone, and natural gas subscriptions, as well as creating a bank account, obtaining tax identification numbers, and purchasing insurance. We can also assist you with furniture selection for your home. Are you interested? Why don't you have a look at the services provided by us?
5. Native language services
It is critical to obtain services in your original tongue in order to avoid any confusion and to be able to respond to any questions. Our agents speak most one the European languages such as English, German, French, Swedish, Norwegian, Danish, Italian, Spanish, Polish, Russian, and even Romanian. TERRA Real Estate offers expert real estate consulting services through its expanded real estate agents and a website that is available in nine different languages. Click here to meet our Team.
Choosing Your Local expert: TERRA Real Estate!
We understand that purchasing a home in Turkey is a serious decision that must be carefully considered. If you're looking for a property in Turkey for the first time, check out the Property Buying Guide in Turkey for First Time Buyers. On our website, you can also read about the Expenses of Buying Real Estate in Turkey.
Are you ready to buy your Turkish home? We can answer your questions, help you to solve some issues related to your residence permit, living in Turkey, topics related to Turkish law, land registry and many more.
After you contact us, we will select properties for you to view, and highlight places that suit your lifestyle and what you want to achieve from this real estate investment. Fill out the enquiry form or use the chat message option to learn more about any home that catches your eye on our property listing pages.
We provide advice and guidance to all investors who choose Turkey as their target country because of our extensive experience in the Turkish real estate sector. Working with a reputable real estate company is the first step toward achieving long-term success with your investment plan.
You can also make your first step to buy your holiday home and call us today at:
Call us at +90 242 512 25 00
Send an email at

[email protected]

or just call us for free via WhatsApp +90 532 341 67 54