Architectural Styles Of Traditional Turkish Houses
With the right materials and a group of well-working staff, any structure can be built today thanks to the highly advanced state of architecture. On the other hand, there are traditional buildings that attract people from all over the world with their cultural designs.
Due to its historical background and geographic position, Turkey is a country in which various and distinct types of architecture is constructed. In the past, Turkish architecture has been influenced not only by Seljuk and Ottoman architecture but also by Germanian and Austrian. In addition, while constructing these cultural Turkish houses some facts have influenced architectural design such as geography, climate, religion, technology, culture, imagination, style, budget, practicality, etc. The last two have been the main effective ones while building the old Turkish houses.
Some houses are built in such a good way that they are noticed worldwide. For instance, Safranbolu houses in the Black Sea region, in northwestern Turkey gained UNESCO World Heritage status in 1994. In this article, some of the well-known classical Turkish houses and their architectural styles will be explained briefly.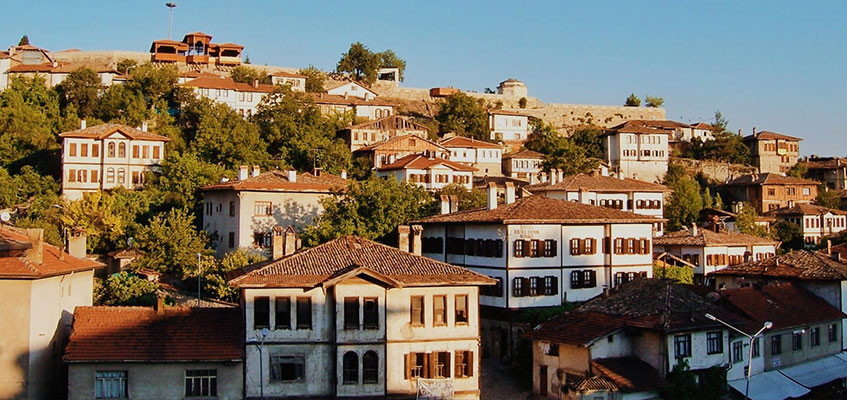 What are the Characteristics of Turkish Architecture?
The interiors of Turkish homes are planned to improve settlers' quality of life. These homes are equipped with wide windows with metal bars. Turkish people generally do not wear shoes inside the houses, so the interiors of all the rooms are furnished with handmade Turkish carpets, and these homes are kept clean to provide a better environment for sleeping, eating, and other activities.
Furthermore, the exteriors of Turkish homes are built with a combination of materials like wood and stone such as wooden houses in Yayla which will be mentioned later. While many buildings in Central Anatolia are made of sun-dried brick, various others located further north and along the Black Sea coast are wooden. In contrast to these places, stone structures may be found by traveling west or south. Here are some examples of old Turkish structures:
Types of Traditional Turkish Houses
Ottoman Townhouses
Located in the Safranbolu region of Turkey, Traditional Ottoman-style Turkish houses are buildings reflecting the traditional and cultural characteristics of the Ottoman period. These houses consist of wooden & stone exteriors and eye-catching interiors, so they are large dullish structures that fill the inside of the house with a lot of sunlight. This is true that wood and soil are among the materials that provide increased interior comfort. People who live in such traditional houses usually praise the comfort of the environment. In the planning process the living area called "sofa", which means life among the Turkish people, shapes these soft brown or blue traditional houses as a square. These houses might seem a bit ancient when observing the exterior parts but you will be amazed by the distinct interior decoration.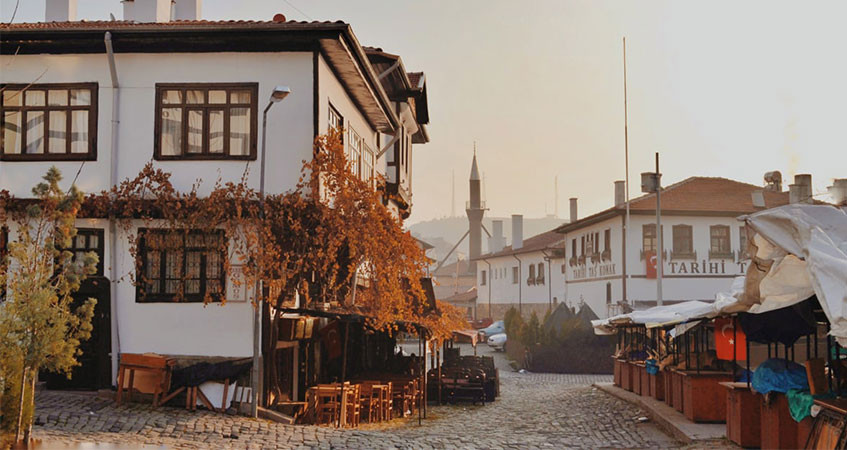 Yalı Mansions
The second Ottoman building on our list, Yalı Mansions, boasts a view of Istanbul's turquoise sea. These well-known mansions are one of the most expensive properties in the Turkish real estate market. They were exclusive homes that could only be possessed by powerful and wealthy people even during the Ottoman era. Today, these homes are sold after determining whether the buyers are qualified enough since these homes are larger than others and they are also well-guarded. Adorned with very large rooms, high ceilings, specifically created stairs, and traditional artifacts, these buildings can be called as dream mansions! Moreover, the exterior parts of these numerous mansions colored in tattletale gray and brick red seem humbled and restful.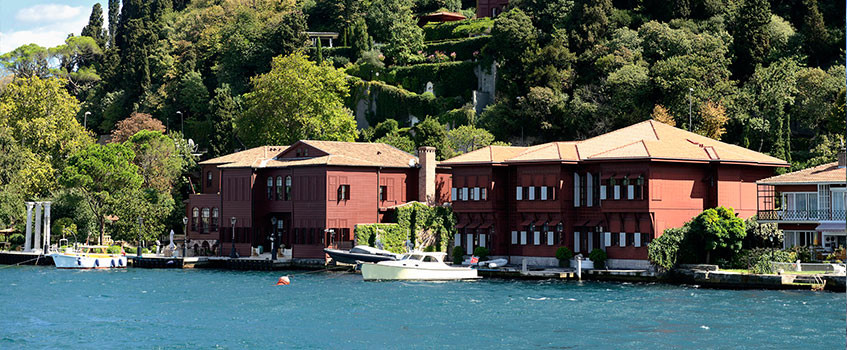 Farmhouses
Farmhouses are structures built to meet the needs of people who are probably involved in agriculture and have gardens with fruit trees and vegetable farms. Being located in almost every rural area in Turkey, tiny-looking farmhouses will enable you to contact with the natural world. Additionally, these houses may have animal shelters, which will be useful for animal husbandry. These traditional houses are usually painted red and have only a few interior features targeting the new buyers due to their lack of modern facilities.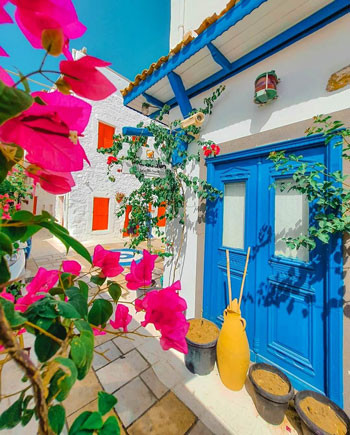 Whitewashed Houses in the Aegean Region
The fascinating whitewashed houses are located in the Aegean region of Turkey, Bodrum. Due to their resemblance to stone cottages, these lovely homes are sometimes referred to as "sugar cube houses," and they have a single blue door and window at the entrance. These doors are painted blue because it is believed to keep the scorpions away. The purpose of whitewashing the building's surroundings is to reflect the sun as much as possible.
The people who live here are very satisfied with their accommodation that they are fascinated not only by the beauty of the city but also by the obsolete yet satisfying interior design of these stunning houses.
Yayla Wooden Houses
The living styles of Kaçkar Mountain villagers in the Black Sea region of Turkey are completely different from other regions. Locals live inside forests, thus they build their houses in the woods. Therefore it is no surprise for animals to come to those houses and seek food during specific times, especially in the winter season. Moreover, this region is renowned for honey producing which invites the near bears. These constructions painted soft or dark brown are generally built as penthouses and it should not be forgotten that upstairs are always warmer than the downstairs which leads Turkish settlers to stay on the second floor. Due to those reasons, people staying in wooden houses prefer to stay on the second floor of those lovely houses equipped with traditional interior designs.

Stone Cottages of the South and West
One particular area in Fethiye, Karaköy, may serve as a superb illustration of stone buildings. These types of houses can be apartments or penthouses equipped with interior and exterior stone walls. They are qualified with balconies in general, which are often used in summer. These houses are in demand in many real estate markets in Turkey. Greeks who resided on the Mediterranean and Aegean shores throughout the Ottoman Period had a significant cultural effect on the architecture of these homes, which is another reason the stone cottages are known as Greek houses.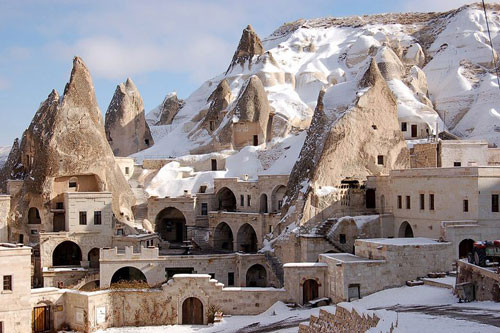 Cave Houses in Cappadocia
When we say traditional Turkish houses, one of the houses that comes to mind is the brownish cave houses located in the Central Cappadocia region. Turkish cave houses are popular because they have intriguing interior designs that attract tourists. Due to the fact that these houses are caves, there are no specific features of their exteriors.
Additionally, these houses may also be utilized as investments, and are even one of the fastest developing real estate markets in Turkey.
Don't worry if you don't want to buy one of these houses; you may spend the night of your dreams in one of these charming cave hotels in exchange for a fee.
You Might Also Like to Read