Mersin, also known as İçel, is a coastal city located in southern Turkey. It lies between the Taurus Mountains and the Mediterranean Sea, offering stunning natural landscapes. It is renowned for its rich historical sites, pristine and well-maintained beaches, and unique attractions, although it may not be widely recognized among foreigners. The city's coastal location makes it a popular tourist destination. It's the perfect place to go if you want to relax and have an exciting adventure.
If you're a foreigner and desire to visit or live in Mersin, you should know that there are many places to see here. Mersin also hosts various festivals and events that showcase its cultural diversity. You can visit historic sites like ancient ruins and castles.
With its welcoming community, Mersin ranks 11 in Turkey in terms of population, according to the Mersin Directorate General of Population Statistics. This city has plenty of shopping centers that meet the needs of foreigners who live here and also attract many tourists who want to go shopping. Furthermore, you will be pleased to realize that Mersin's accessibility by sea, and road enhances its appeal as a tourist destination, facilitating convenient travel to various entertainment facilities.
In short, Mersin combines its historical heritage with a modern urban landscape, making it an appealing destination for both history enthusiasts and leisure travelers.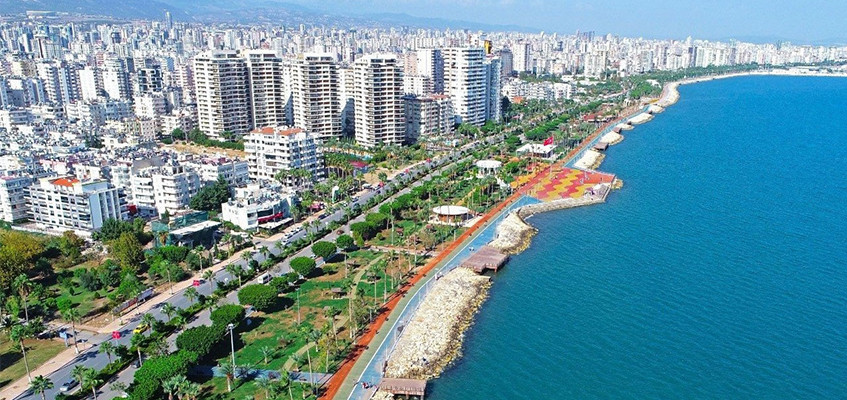 Why Do Foreigners Like to Live in Mersin?
There is a list of destinations and activities in Mersin below, which contributes to the fact that it is one of the best choices for permanent residents, but also for vacationers and visitors from abroad.
⦁ Mediterranean Lifestyle: Mersin offers a relaxed Mediterranean lifestyle with a pleasant climate, beautiful beaches, and a slower pace of life. The city's coastal location provides opportunities for outdoor activities, water sports, and enjoying the beach. For those seeking a laid-back and sunny lifestyle, Mersin can be an attractive destination.
⦁ Safety: Mersin, one of the safest cities in Turkey, prioritizes security with well-organized measures, extensive surveillance systems, and community engagement. The city's commitment to safety is evident through its meticulously maintained infrastructure and tourist-friendly environment. Mersin's safe environment, particularly appealing to foreigners unfamiliar with the city, makes it an inviting and delightful place to explore.
⦁ Cost of Living: Compared to larger cities in Turkey, Mersin generally has a lower cost of living. Housing, utilities, and daily expenses are often more affordable, making it an attractive option for foreigners looking for a comfortable lifestyle without the high costs associated with major urban centers.
⦁ Cultural Diversity: Mersin is a cosmopolitan city that welcomes people from various cultures and backgrounds. Its diverse population creates a multicultural environment where foreigners can feel at home. The city's cultural events, festivals, and cuisine provide opportunities for cultural exchange and exploration.
⦁ Community and Hospitality: Mersin is known for its warm and welcoming community. Foreigners often find it easy to integrate into the local society and establish connections with both expatriates and locals. The hospitality of the people in Mersin can make foreigners feel comfortable and at home.
⦁ Restaurants and Cafes: In Mersin, you will find a mix of Turkish and Mediterranean cuisine in a variety of restaurants, cafes, and street food stalls in the city where foreigners can taste delicious meals including fresh seafood, kebabs, mezes (appetizers), and traditional Turkish dishes. Food lovers and people who like to try new things will find this to be an enjoyable experience.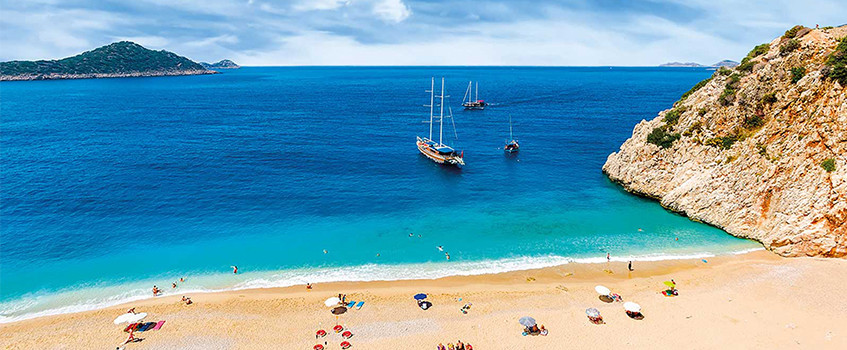 ⦁ Outdoor Activities: Mersin offers many outdoor activities related to its natural beauties for foreigners who enjoy an active lifestyle. Mostly water sports such as swimming, sailing, and diving in the Mediterranean Sea are preferred by foreigners as they are attracted to the azure sea of Mersin. Mersin also has other recreation options for the activity enjoyers like hiking, cycling, and paragliding in the nearby mountains.
⦁ Local Festivals and Events: Mersin hosts various festivals and events throughout the year, showcasing the region's cultural heritage and traditions including Mersin International Music Festival, Mersin Orange Blossom Carnival, Mersin Art and Culture Festival, and International Mersin Music Festival which provides an enjoyable experience for the tourists and foreigners.
⦁ Natural and Historical Attractions: Mersin's proximity to historical sites and natural attractions is another factor that draws foreigners to the city. The region offers opportunities to explore ancient ruins, archaeological sites, and castles. Additionally, the Taurus Mountains and nearby natural wonders, such as waterfalls and sinkholes, provide opportunities for outdoor activities and scenic beauty.
⦁ Business and Investment Opportunities: Mersin's thriving economy and strategic location make it an appealing destination for foreign entrepreneurs and investors. The city's international port and transportation infrastructure provide opportunities for trade and commerce. Foreigners may see potential in establishing businesses or investing in various sectors, such as tourism, agriculture, and industry.
⦁ Proximity to Natural Attractions: Mersin is surrounded by natural beauty. The city provides easy access to stunning landscapes, including the Taurus Mountains, waterfalls, sinkholes, and national parks. Residents can explore and enjoy outdoor activities such as hiking, camping, and nature walks in these scenic locations.
Best Regions to Live in Mersin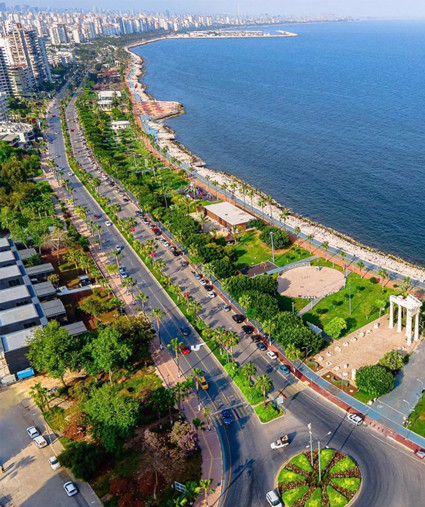 When considering the best region to live in Mersin as a foreigner, factors such as proximity to amenities, transportation links, safety, access to international schools or healthcare facilities, and personal preferences for urban or suburban living should be taken into account. Here are some of the best regions to live in Mersin:
⦁ Mersin City Center: The city center of Mersin offers a vibrant urban lifestyle with easy access to amenities, transportation, shopping centers, restaurants, and cultural attractions. Living in the city center provides convenience and a lively atmosphere.
⦁ Yenişehir: Located in the eastern part of Mersin Yenişehir is a popular residential area. This area provides a quieter and more suburban living experience while still being within reach of amenities and facilities. Living in Yenişehir provides you with easy access to a wide range of amenities and a bustling urban lifestyle.
* The main attractions of the area: The vibrant promenade, coastal area, amusement park, national garden, and Forum Mersin Mall
⦁ Mezitli: Mezitli is a coastal district located west of Mersin city center. It offers a mix of modern apartments and houses with proximity to beaches and parks. Known for its beautiful sandy beaches, beach clubs, and recreational areas, Mezitli offers a more relaxed and resort-like environment, making it an ideal choice for foreigners who enjoy a coastal lifestyle and water activities.
* The main attractions of the area: Ancient cities, parks, beaches, and natural wonders
⦁ Erdemli: Erdemli, a district situated to the east of Mersin, provides a calm and peaceful living atmosphere. It is well-known for its beautiful beaches, notable historical landmarks like Kızkalesi (Maiden's Castle), and stunning natural scenery. Erdemli is a great option for tourists and foreigners looking for a tranquil coastal lifestyle away from the busy city center, as well as those interested in investment opportunities.
* The main attractions of the area: Caves, ancient ruins, and beaches
⦁ Tarsus: Tarsus, a district located to the north of Mersin, offers a blend of historical charm, a relaxed atmosphere, and access to modern amenities. It has a rich cultural heritage, including some ancient ruins and historical sites like the Cleopatra Gate and St. Paul's Well. This district is well-located as it neighbors Adana Province and is only 15 km away from it. Moreover, it is conveniently situated approximately 40 km from Adana Şakirpaşa Airport.
* The main attractions of the area: Natural distractions and historical and cultural places
⦁ Silifke: As a western district of Mersin, Silifke has stunning natural landscapes and captivating attractions. Visitors can explore beautiful beaches, venture through the breathtaking Gülek Pass, discover the ancient city of Olba, and marvel at the remarkable landscapes of the Cennet and Cehennem sinkholes. Silifke is a paradise for nature lovers and outdoor enthusiasts, offering a diverse range of experiences that showcase the district's unique charm and natural beauty.
* The main attractions of the area: Piers & boardwalk areas, natural beauties and museums

Tourist Attractions and Places to Visit in Mersin
⦁ Mersin Marina: Located in the city center, Mersin Marina is a modern waterfront development with cafes, restaurants, and shops. It's a great place to relax, enjoy the sea view, and take leisurely walks along the promenade.
⦁ Mersin Grand Bazaar: The Grand Bazaar is a traditional market where you can explore a vibrant atmosphere and shop for local goods, including spices, textiles, and handicrafts. It's a great place to immerse yourself in the local culture and pick up some souvenirs.
⦁ Kızkalesi (Maiden's Castle): Situated in the town of Kızkalesi, about 70 kilometers west of Mersin, Kızkalesi is a picturesque castle located on a small island just off the coast. The castle has a fascinating history and provides a unique and scenic backdrop for photos.
⦁ Ataturk Museum: Located in the historic district of Tarsus, this museum is dedicated to Mustafa Kemal Atatürk, the founder of modern Turkey. It was the childhood home of Atatürk and now displays personal belongings and memorabilia from his life.
⦁ Cleopatra's Gate: This historical landmark is believed to have been built by the Roman Emperor Hadrian in honor of his lover, Cleopatra. It is an impressive gate that served as an entrance to the ancient city of Tarsus.
⦁ Mersin Museum: Located in Yenişehir, Mersin Museum is an archaeological and ethnographic museum that showcases artifacts from the region's ancient civilizations, including the Hittites, Greeks, Romans, and Byzantines. It houses a diverse collection of artifacts, including ancient coins, sculptures, and archaeological findings.
⦁ Cennet-Cehennem (Heaven-Hell) Sinkholes: Located near the town of Narlıkuyu, about 40 kilometers west of Mersin, the Cennet-Cehennem Sinkholes are natural formations that offer breathtaking views. The sinkholes consist of two large sinkholes connected by an underground cave system, providing a captivating natural wonder.
⦁ Anamur Mamure Castle: Situated about 6 km east of Anamur, Mamure Castle is a medieval fortress perched on a hill overlooking the Mediterranean Sea. This impressive structure offers panoramic scenery to its viewers.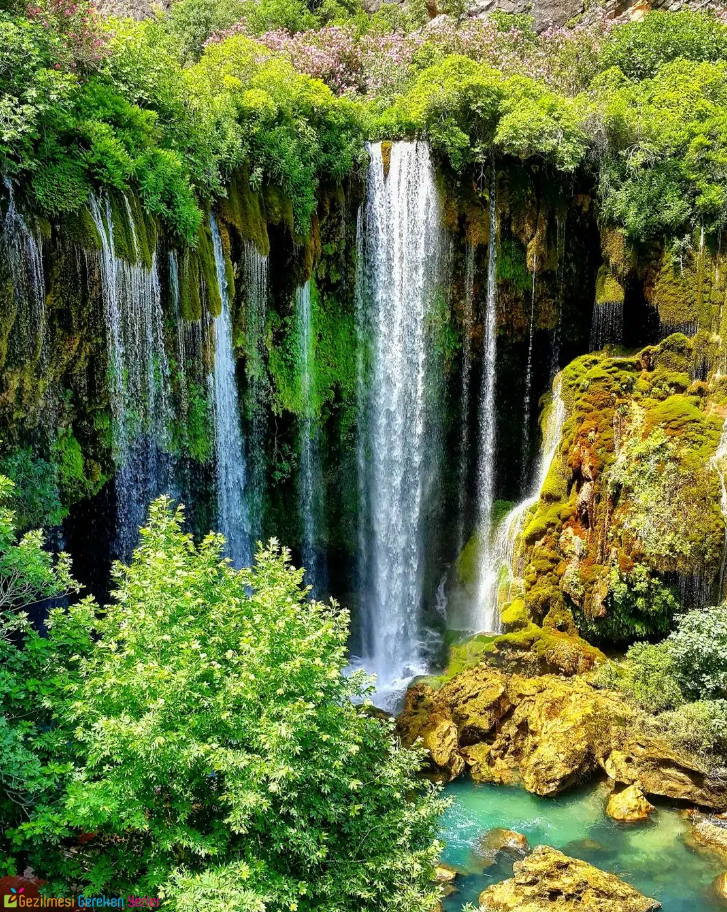 ⦁ Anamurium Ancient City: Located near the town of Anamur, about 100 kilometers west of Mersin, Anamurium is an ancient city with well-preserved ruins. It features an impressive amphitheater, city walls, and ancient Roman baths, offering a glimpse into the region's past.
⦁ Tarsus: Tarsus is an ancient city located about 45 kilometers east of Mersin. It has a rich history and is believed to be the birthplace of St. Paul. Visitors can explore historical sites such as the Tarsus Grand Mosque, St. Paul's Well, and the Tarsus Museum.
⦁ Tarsus Waterfall: Located near the city center of Tarsus, this picturesque waterfall is a popular spot for both locals and tourists. Surrounded by lush greenery, it offers a tranquil setting for relaxation and picnicking.
These are just a few highlights of the many attractions and places to visit in Mersin. The region offers a blend of historical, cultural, and natural sites, providing a diverse range of experiences for visitors. It also offers beautiful beaches, delicious cuisine, and a vibrant local culture that is worth exploring.
Shopping and Entertainment in the City
With a variety of shopping malls as well as cafes, cinemas, and play areas for children, Mersin offers various shopping options for tourists. There are many traditional Turkish bazaars that offer fresh produce as well as various items from the local area. The city has a much lower price level than other major Turkish cities in terms of food, restaurants, accommodation, transportation, clothing, and real estate than other major Turkish cities.
⦁ Forum Mersin: Forum Mersin is one of the largest shopping malls in the city, located in the Mezitli district. It features a variety of shops, including local and international brands, fashion boutiques, electronics stores, and supermarkets. The mall also offers a cinema complex, entertainment facilities, and a food court with various dining options.
⦁ Palm City Mall: Located in the Yenisehir district, Palm City Mall is another popular shopping destination. It houses a range of stores, including clothing, accessories, home goods, and electronics. The mall also offers entertainment options such as a cinema, a bowling alley, and a food court.
⦁ Mersin Marina: Mersin Marina is a modern waterfront development that offers a blend of shopping, dining, and entertainment. Located in the city center, it provides a pleasant atmosphere with a variety of cafes, restaurants, and shops. The marina is a popular spot for leisurely walks, enjoying the sea view, and dining by the waterfront.
⦁ Atatürk Cultural Center: Atatürk Cultural Center, situated in the city center, is a prominent cultural and entertainment venue. It hosts a variety of performances, including theater plays, concerts, dance shows, and art exhibitions. The center also houses a library and a conference hall.
⦁ City Center: Mersin's city center, particularly the streets of Ataturk and Istiklal serve as a great place for an entertainment facility. Additionally, there are local markets and bazaars where you can explore traditional Turkish goods.
⦁ City Park: Mersin City Park is a large recreational area that offers green spaces, walking paths, and playgrounds. It is a popular spot for picnics, family outings, and leisure activities. The park often hosts events and festivals, providing entertainment options for people of all ages.
⦁ Waterfront Promenade: It's a great place to relax and enjoy the scenic views of the Mediterranean Sea. The promenade features cafes, ice cream stands, and small shops where you can grab a refreshment or snack while enjoying the sea breeze.
⦁ Nightlife: Mersin has a growing nightlife scene, particularly in the city center. There are bars, clubs, and live music venues where visitors can enjoy a night out. The city offers a mix of casual bars for socializing and venues for dancing and live performances.
⦁ Cultural Events: Another enjoyable activity for foreigners to do in Mersin is going to cultural activities which last throughout the year. This city's artistic side can be seen in the Mersin International Music Festival, and Mersin International Film Festival, as well as several exhibitions and art shows that take place there.
These are just a few examples of the shopping and entertainment opportunities in Mersin. The city caters to a wide range of interests and preferences, ensuring that residents and visitors have plenty of options for shopping, leisure, and entertainment.
Transport Network and Getting There
Mersin offers various transportation options for travelers like trains, planes, buses, boats, and roadways.
By train: Mersin has a railway station located on İstiklal Cd between the city center and the port. An hourly regional train from Adana takes 90 minutes via Yenice and Tarsus. There are three trains per day starting in Iskenderun and one from İslahiye via Osmaniye. At Yenice, passengers can change trains for the Kayseri-Adana route.
By plane: Adana Şakirpaşa Airport (ADA), approximately 70 km northeast of Mersin, is the nearest airport to Mersin. It offers frequent flights from Istanbul, Ankara, İzmir, and other cities. From the airport, travelers can reach Mersin by taxi, shuttle services, or public transportation.
By bus: Mersin has a bus station in the eastern part of the city. City buses run between the city center and the bus station. From the bus station, there are buses to various cities in Turkey, including Gaziantep, as well as small cities and villages in the Cilician Mountains, such as Silifke.
By boat: There are ferry tours connecting Mersin with Kyrenia (Girne) and Famagusta (Mağusa) in Northern Cyprus. During the summer, fast-cat ferries operate on the Kyrenia line from Mersin, with a travel time of 80 minutes for passengers. Additionally, there is a ferry service between Taşucu and Tripoli in Lebanon.
Roadways: Mersin has a strong transportation system that links it with other cities in Turkey using a comprehensive network of highways. One of these highways is the O-21, which is commonly referred to as the Mersin Beltway. In addition to encircling the city, this highway also connects to major highways that lead to other regions within Turkey and connects to other major highways. People often use buses and private vehicles when traveling to and from Mersin.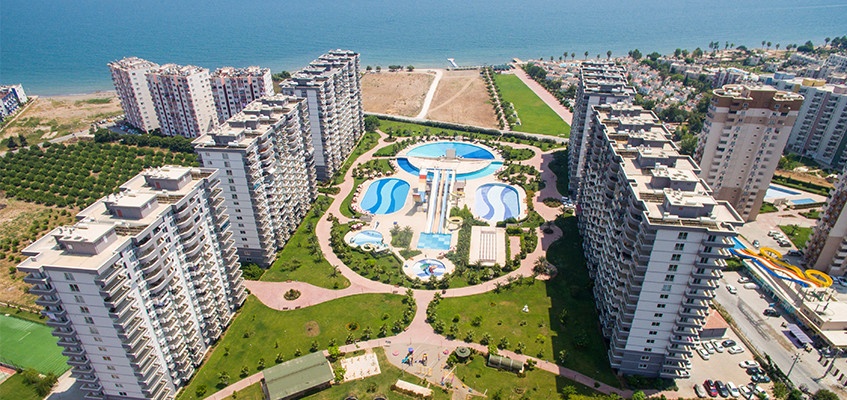 Local Projects and Real Estate in Mersin
Mersin is a hidden gem on Turkey's southern coast with a thriving real estate market and local projects. The city has seen various local projects and real estate developments in recent years aimed at improving the infrastructure and meeting the housing needs of its residents.
⦁ Urban Renewal and Regeneration: Mersin has been undergoing urban renewal and regeneration initiatives to enhance the city's infrastructure and rejuvenate older neighborhoods. These projects aim to improve living conditions, create more green spaces, upgrade transportation networks, and modernize public facilities.
⦁ New Residential Developments: There has been an increase in new residential developments in Mersin, catering to various housing preferences and budgets. These developments include apartment complexes, gated communities, private villas, and housing projects featuring modern amenities and facilities.
⦁ Coastal Development: Mersin's coastal areas have seen significant development, with the construction of luxury residential complexes, hotels, and beachfront resorts. These projects take advantage of the city's scenic coastline and offer residents and visitors access to the beach and recreational activities.
Whether you want a luxurious waterfront development, a modern apartment, or a charming villa in Mersin, the city has options for every taste and budget.
In addition, the city is a popular area for real estate investment among foreigners, thanks to its convenient transportation and wide range of opportunities. Mersin province has been investing in improving infrastructure, including transportation networks, roads, and utilities. These improvements aim to enhance connectivity within the city and with neighboring regions, making Mersin more accessible and convenient for residents and businesses.
To summarize, you can find spacious and affordable apartments in Mersin that offer a comfortable lifestyle at affordable prices without sacrificing quality.
What are the Profitable Real Estate Investment Instruments in Mersin?
The profitability of real estate investments in Mersin can vary depending on various factors such as location, property type, market conditions, and investment strategy. Here are some real estate investment instruments in Mersin that have the potential for profitability:
⦁ Residential Properties: Residential properties, including apartments and houses, can be a profitable investment in Mersin. The city's growing population and demand for housing, coupled with its appeal as a coastal destination, can offer opportunities for rental income or property appreciation over time. Consider investing in areas that are experiencing development or are close to amenities and transportation networks.
⦁ Commercial Properties: Commercial properties in Mersin, such as retail spaces, offices, or mixed-use developments, can yield attractive returns. The city's growing economy and increasing business activities create demand for commercial spaces. Target areas with high foot traffic, proximity to business districts, or locations that cater to specific industries.
⦁ Tourism-Based Properties: Mersin's coastal location and tourist attractions make tourism-based properties potentially profitable. Consider investing in vacation rentals, holiday homes, or properties near popular tourist destinations like Kızkalesi or Çeşmeli. High tourism activity can generate rental income during peak seasons.
⦁ Land and Development Opportunities: Investing in undeveloped land in Mersin or properties with development potential can be a profitable long-term strategy. Look for areas where urbanization and infrastructure improvements are taking place or are planned in the future. Developments such as residential complexes, hotels, or commercial centers can increase the value of the land or property over time.
⦁ Real Estate Investment Trusts (REITs): Consider investing in real estate investment trusts (REITs) that operate in Mersin. REITs are investment vehicles that pool funds from multiple investors to invest in real estate projects. They provide an opportunity to diversify investments and gain exposure to different property types or developments in Mersin.
It's important to conduct thorough research, analyze market trends, and consult with local real estate professionals or financial advisors before making any investment decisions.
Discover our Great Selection of Properties for Sale in Mersin
To explore the selection of properties for sale in Mersin offered by TERRA Real Estate, you can visit our website or contact us directly. We have a user-friendly website where you can search for properties based on your preferences such as location, price range, property type, and more. Additionally, you can reach out to our real estate agency for the available properties and get personalized assistance from our professional agents.
Further Reading...
If you are thinking of buying a property in Mersin but have not decided where to buy it, you can check the "Where to Buy Real Estate in Mersin, Turkey?" page.