Every summer, a large number of tourists wish to work in Turkey so that they can stay here permanently. They get a desire to live here, but they can only do so if they can find work in Turkey to support themselves.
There is a constant need for qualified, English-speaking individuals around the country. Aside from that, many international firms have marketing, sales, translation, IT developers, and other professional and technical positions that require a foreign worker or are difficult to fill with a Turkish citizen. Summer jobs for foreign workers are also easily available at holiday resorts, hotels, and travel-related businesses.
We'll try to answer two questions in this article: "Is Turkey a suitable place to work?" and "How can a Foreigner Work in Turkey?" So read up for more information.
Is Turkey a Good Place to Work?
Turkey is a country with a rich cultural legacy that lies at the crossroads of Europe and Asia. The country's sights, which include gorgeous architecture, stunning national parks, and numerous sites of interest, attract many visitors.
Turkish business is centered in Ankara, the country's capital, as well as Istanbul, the country's employment and international relations hub.
While the typically booming tourism industry has suffered a slowdown in recent years as a result of political turbulence and increased regional insecurity, there are signs of recovery, and tourism continues to play an important role in Turkey's economy.
The wide range of accepted nationalities demonstrates that Turkey is evolving into a cosmopolitan hub for employees, and it also shows an increasing trend in approved applications. This rising learning keeps on continuing.

Can a Foreigner Work in Turkey?
Foreigners in Turkey find work in a variety of areas in large cities such as Istanbul, which is home to international firms, as well as Ankara and Izmir. As a result, we can see that the three largest cities, as well as the tourism center Antalya, receive the most work permit applications.
Foreigners who can get a work permit unconditionally:
Foreigners who meet the following standards will be awarded an unconditional work permit if they produce documents from the Republic of Turkey's official authorities proving that they meet these requirements;
Foreigners whose parents or children are Turkish citizens;
Foreigners who have been married to a Turkish citizen for at least three years are eligible to apply;
Citizens of the Turkish Republic of Northern Cyprus (Turkish Republic of Northern Cyprus);
Foreigners who have a residency permit in accordance with the Administration for Turks Living Abroad and Related Communities' procedures;
Foreigners with a residence permit due to humanitarian concerns;
Foreigners with a residence permit due to being a victim of human trafficking;
Foreigners with a residence permit due to their status as stateless (heimatlos) people.
Work Permits in Turkey for Foreign Nationals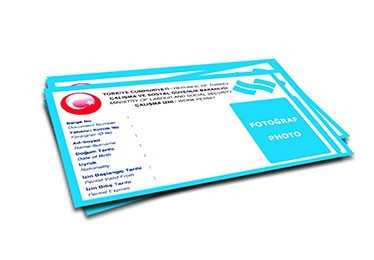 What is a Work Permit For Foreigners? It is a permit issued by the Ministry of Family, Labor, and Social Services in the form of an official document and gives the right to work and reside in Turkey within the validity period. According to International Labor Law No. 6735, foreigners must obtain permission before starting dependent or independent work in Turkey.
There are three types of work permits in Turkey:
1. Limited Work Permit - a work permit valid for a maximum of one year in the first application, provided that you work in a specific workplace belonging to a real or legal person or a public institution or organization or in their workplaces in the same business line. If the work permit extends, further application must be done. If it is evaluated positively, the foreigner is granted a work permit for a maximum of two years in the first extension application and up to three years in the subsequent extension applications, depending on the same employer.
2. Unlimited Work Permit - Foreigners who have a long-term residence permit or a legal work permit for at least eight years in Turkey can apply for an unlimited work permit. However, the foreigner's fulfillment of the application conditions does not provide absolute rights to the foreigner.
3. Independent Work Permit - Professional foreigners can be granted an independent work permit, provided according to special conditions specified in other laws. In the evaluation of independent work permit applications in line with international labour policy, the foreigner; education level, professional experience, contribution to science and technology, the impact of his activity or investment in Turkey on the country's economy and employment, capital share if he is a foreign company partner, and other issues to be determined by the Ministry in line with the recommendations of the International Labor Policy Advisory Board. An Independent work permit is issued for a period of time.
Foreigners can apply for a work permit if they have a valid residence permit, a passport with at least 60 days validity, and a formal contract with their company. Work permits are given to foreigners in Turkey through a specific workplace or business.
Work permits are given to foreigners to work at a certain workplace and address, and if the foreigner leaves this workplace, the permit loses its validity. Since it is not possible for a foreigner who has a work permit with an employer to work in another workplace with the same permit, the new employer must apply for a work permit to the Ministry and obtain a new work permit to work in his own workplace.
Employers must complete all appropriate application forms for their overseas employees and submit all papers to the Ministry of Labor and Social Security's relevant section. When a foreigner's work permit application is approved, they can begin working.
Social security and tax payments are the responsibility of the employer. Because the permit is specific for one job, it will become invalid if you leave your work at any moment. When foreigners leave their jobs, their work permits are automatically revoked.
The work permit or work permit exemption granted in accordance with International Labor Law No. 6735 replaces the residence permit in accordance with Article 27 of Law No. 6458. However, work permits issued to International Protection Applicants, Conditional Refugee and Temporary Protection statuses do not replace residence permits.
All kinds of information and comprehensive application guides required for you to apply for a work permit are available on the website of our Ministry. You can also call "ALO 170", the information and consultation line of our Ministry, to answer your question on this subject.
How Can a Foreigner Find a Job in Turkey?
Getting a job in Turkey may be challenging but it is not difficult, especially if you have highly sought-after abilities and qualifications. According to ManpowerGroup, the world's third-largest staffing agency, 66 % of Turkish employers are having trouble filling positions. Engineering, as well as accounting and finance, have the most pressing needs.
The resources mentioned below include some network portals and some popular job search websites with a rich choice of Turkish job listings, that may help you find work as a foreigner in Turkey.
Google
Facebook Jobs
Kariyer.net
Indeed
Yenibiris
Eleman.net
Jooble
LinkedIn
Networking
İşkur Job Postings at https://iskurisilanlari.com/ is also a valid job posting resource.
And many other websites such as Expat.com, Learn4Good, Reed.co.uk, Totaljobs etc.
When in doubt regarding your labor rights, the Ministry of Labor and Social Security's website can be used as a reference, and Labor Law in Turkey: can be a helpful source of knowledge for many areas linked to labor law.
So, What Jobs Can Foreigners Who Want to Work in Turkey Do?
It is simpler to list the jobs that foreigners ARE NOT PERMITTED to do in Turkey:
Dentistry, dentistry, nursing. (According to the Law on the Style of Practice of Medicine and Medical Arts)
Pharmacy (According to the Law on Pharmacists and Pharmacies)
Veterinary Medicine (in accordance with the Law on the Formation of the Veterinary Medical Association and its Chambers)
Responsible director in private hospitals (in accordance with the Private Hospitals Law)
Attorneyship (According to the Attorneyship Law)
Notary Public (According to the Notary Law)
Private security officer (Law No. 5188 on Private Security Services, Art. 10)
Exporting fish, oysters, mussels, sponges, pearls, coral, diving, foraging, piloting, captaining, engineering, clerk, crew, etc. within the territorial waters. (According to the Cabotage Law)
Customs consultancy (in accordance with Article 227 of the Customs Law No. 4458)
Tourist guiding (in accordance with Article 3 of the Tourist Guiding Profession Law No. 6326)

In addition to these restrictions, there are also certain industries that are more popular than others among foreign workers in Turkey. So what can you commonly do in Turkey if you are a foreigner?
Teaching jobs (especially teaching English in Turkey but also other foreign languages)
Customer Service Responsible
Summer jobs with holiday companies
Hotel entertainment
Remote freelancing
Editor and Translation Jobs
Import-Export Sales Specialist.
Babysitting
Internships
Part-time jobs
Self-employment, by starting your own Turkish business or joining a partnership
and more vacancies in dozens of local and international companies
Moreover, Turkey's Aegean and Mediterranean regions are offering seasonal work to foreign human resources for your demands, particularly in hotels and tourism organizations. Foreigners can become tour guides in their mother tongue after completing a short training program. Foreigners can find work in entertainment venues and hotels throughout the summer months.
How to Set Up a Business in Turkey?
Employers in Turkey must obtain an individual work permit under Turkish labor rules. This option is only available to those who have lived in Turkey legally for at least five years. The plan is to develop a company that will help the Turkish economy.
On the other side, the Turquoise System for highly trained workers was implemented in 2017 as part of a revision to the International Labour Force Law. Because holders of indefinite permits are issued using the point-based system, it is quite beneficial.
The most common type of business for foreigners is a private limited company, which can be formed by two or more non-Turkish nationals. This sort of corporation must have at least one shareholder and minimum share capital of 10.000TL to be formed.
Note that there are several exceptions to the rules governing working in Turkey as a foreigner, and laws are constantly changing, so always consult the Ministry of Labour and Social Security for the most up-to-date information. Also, keep in mind that anyone detected working illegally will face fines and, in certain situations, deportation.
More Information About Life in Turkey
In our article, we tried to answer the question: "How can a Foreigner get a job in Turkey?". We hope you found it useful. In case you are interested in related topics, on the TERRA Real Estate website, you can read some more information about the facts about living in Turkey. View the "Costs of Living in Turkey" page to get detailed information.
If you have questions, do not hesitate to write us a message, call us or just visit our office in Alanya.
Would You Like to Work with Us?
If you are interested send us an e-mail at [email protected].