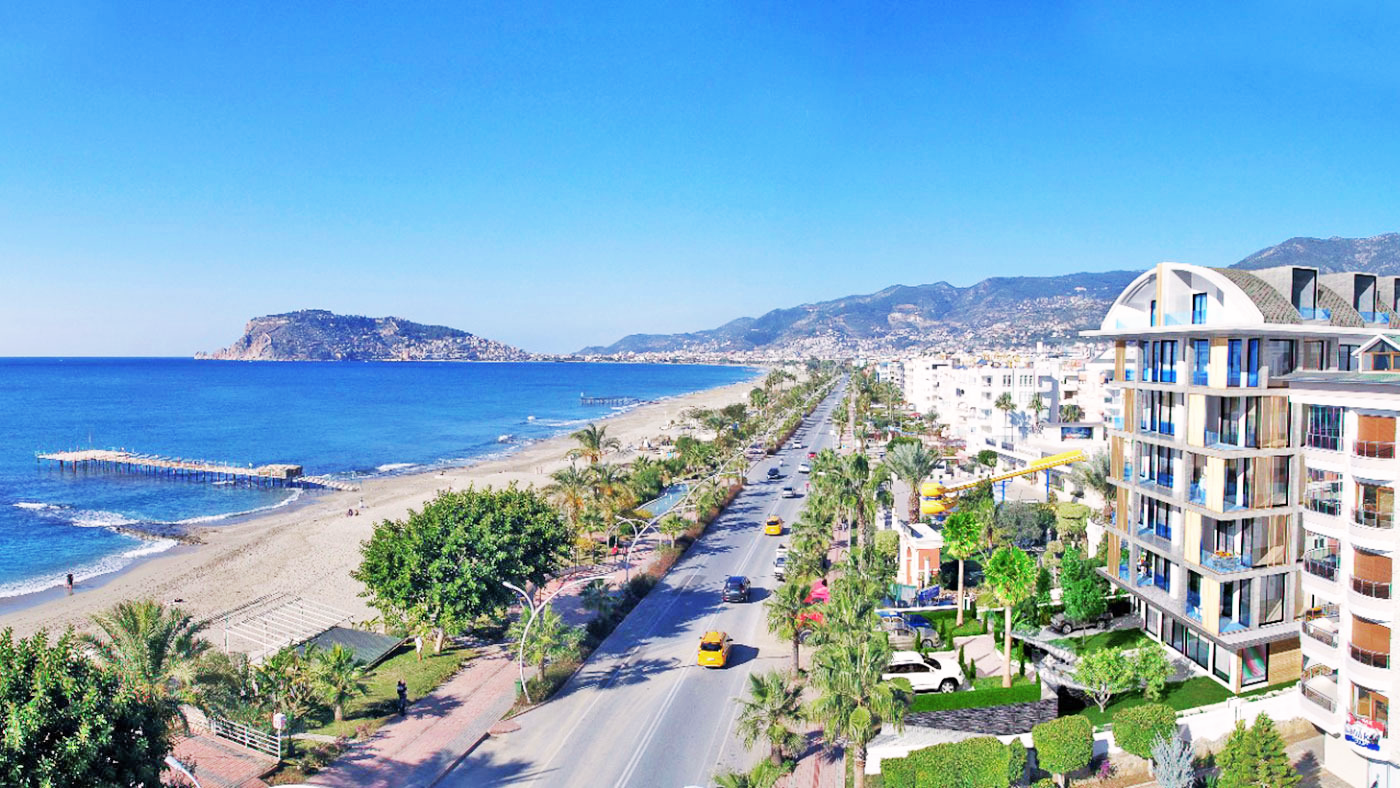 For those who want to invest in real estate, live in a modern neighborhood with advanced amenities, and are interested in living near the beach, buying an apartment in Oba, Alanya, is a great choice. Oba's luxurious residential complexes are providing easy access to all the region has to offer and due to the high demand, they are offering high rental income potential. If you are thinking about buying a home in Turkey but aren't sure which region to pick, this article outlines the benefits of buying an apartment in Oba.
Location
Oba is a charming district located in the Alanya on the southern coast of Turkey.
It is adjacent to Alanya town center and is only 6 km away. Oba has 139 km distance from Antalya city. Gazipaşa Airport is 40 km away from Oba, and Antalya Airport is located within a 131 km range.
Short Overview
Oba is a popular tourist destination with its beautiful beaches, crystal clear waters, warm Mediterranean climate, and exclusive 5-star hotels. This region offers a wide range of leisure activities. You can sunbathe on the sandy beach in the summer, have entertaining times with water sports, cycle and walk along the beach or do sports such as tennis, basketball, football and volleyball at the sports centers.
Alanyum, the largest shopping mall of Alanya, and Alanya Research & Education Hospital, the most advanced hospital of the town are situated in Oba. Apart from these, you can find many other shopping malls, supermarkets and polyclinics in Oba.
Being a large district, Oba offers a variety of large 5-star hotels, which are close to the city's center and provide comfortable accommodations, fully equipped SPAs, aqua parks, and private beach clubs.
Along with severel public schools, Alanya's best-known, most exclusive, internationally-educated and well-equipped private schools are located in the Oba region.
Oba is a region that is rapidly developing and where centralization studies are conducted. As a result, Oba is seeing the construction of a new housing project every day. Especially in the upper part of Oba, you can purchase real estate that is in the development stage at launch prices, and make a profitable sale in the future.
With its perfect location on the Mediterranean Sea, Oba offers a perfect place to invest in a property for vacation, rental or permanent living.
Here are the top reasons to buy an apartment in Oba, Alanya:
The most developed district of Alanya: Oba is the most developed district of Alanya, and it offers a modern lifestyle with all the amenities you need. There are many shopping centers, supermarkets, restaurants, cafes, bars, and other entertainment venues in the area. This means that you can enjoy a comfortable and convenient lifestyle in Oba, with everything you need just a short distance away.
Beachfront Location: Oba is located right on the beach, offering a stunning view of the Mediterranean Sea. This makes it a perfect location for beach lovers who want to enjoy the sun, sea, and sand all year round. There are many apartments in Oba that offer direct access to the beach, making it easy to enjoy the beautiful views and refreshing sea air.
Luxurious Residential Complexes: Oba offers many luxurious residential complexes that offer top-notch amenities and services. These complexes typically include swimming pools, fitness centers, spa facilities, and 24-hour security. You can choose from a range of different apartment sizes and layouts, depending on your preferences and budget.
High Investment Potential: Oba is an area with high investment potential, as the demand for properties in the area is constantly increasing. The value of the property is expected to rise significantly in the coming years, making it a good investment opportunity. Additionally, the Turkish government has made it easier for foreign investors to buy property in Turkey, making it a popular option for international buyers.
Rich Social Amenities: Oba has many social amenities that make it an attractive location for both residents and tourists. There are many parks, playgrounds, and sports facilities in the area, making it a great place to raise a family.
High Rental Income: With its location on the Mediterranean Sea, easy access to social and everyday necessities, Oba is a desired region for both tourist, and locals, which means that there is a high demand for rental properties in the area. You can generate a high rental income by investing in an apartment in Oba, especially during the peak tourist season.
What Types of Apartments You May Buy in Oba?
Garden Apartments: Garden apartments in Oba offer a serene living experience, with a private outdoor space surrounded by greenery. They are typically situated on the ground floor, with direct access to a garden area. These types of apartments are ideal for those who love to spend time outdoors and appreciate a peaceful, tranquil setting.
Penthouses: These types type of apartments are the most luxurious and exclusive option in Oba. These apartments are located on the top floor of a building, providing stunning views of the Mediterranean Sea and the surrounding area. Penthouses often feature large terraces, jacuzzis, and other high-end amenities, making them an excellent choice for those who want to enjoy the best of Oba's Mediterranean lifestyle.
Normal Type: Normal apartments in Oba offer a more affordable option, while still providing all the necessary comforts and amenities for a comfortable living experience. These apartments are typically located in mid-rise buildings and come in a variety of sizes and layouts to meet different needs.
Seafront Apartments: Seafront apartments in Oba are highly sought-after due to their prime location and stunning views of the Mediterranean Sea. These apartments are typically situated in high-rise buildings, with balconies or terraces overlooking the sea. They offer the perfect blend of luxury, comfort, and natural beauty, making them a top choice for those looking to buy a property in Oba.
No matter what type of apartment you're looking for in Oba, you're sure to find a variety of options that meet your needs and preferences. With its natural beauty, modern amenities, and Mediterranean lifestyle, Oba is the perfect place to call home.
More Information About Buying Property in Oba Alanya
If you are interested in an apartment for sale in Oba and you want to get some online viewing, you can contact us at any time:
Call us at +90 242 512 25 00
E-mail us at

[email protected]

or just call us for free via WhatsApp +90 532 341 67 54
Related Articles...