Everyone who wants to invest, particularly those who have saved money, is asking themselves the same question: Is it a good time to buy a property in Turkey? How did the pandemic impact house prices? and Is it safe to buy property in Turkey nowadays?
Impact of the COVID-19 on the Real Estate Market in Turkey
The current statistics show that Turkey's property market continues to grow despite the Covid-19 pandemic and its circumstances, with more than 41,000 new properties sold in September 2020, including 5,269 to foreign nationals.
In Istanbul, Turkey's main city for property buyers, about 8,000 new properties were sold. (About a quarter of these homes were purchased by international investors.) During September 2020, Iranian investors accounted for the largest number of property sales to foreign nationals in Turkey, led by Iraqis and Russians. Others originated from the United Kingdom, Germany, and the United States.
Turkey's Economy During the COVID-19 Pandemic
There aren't many countries in the world that haven't been impacted by the latest Coronavirus Pandemic, but Turkey is being counted as the third least affected, according to the OECD (Organisation for Economic Co-operation and Development).
Turkey is considered a good location for local and foreign investors. In the meantime, Turkey construction and real estate market is constantly developing. There are several recently launched new infrastructure projects, provided by the government and private developers such as new hospitals and schools, as a result of the OECD designation, as well as a 330-kilometre highway connecting the Marmara, Black Sea, and Mediterranean Regions, which is expected to open in time for the country's Centennial celebrations in 2023.
New investments are connected to positive indicators of optimism in Turkey's economic growth – Turkey's economy is one of the world's fastest-growing, with an annual GDP growth rate of 5,5%.
Turkish Lira Condition in Terms of Properties Sales
From the past to the present, the real estate market has always been a secure investment choice. The rise in the exchange rate and the opportunities for foreign investors in the industry to invest in Turkish property appealing.
The phrase "Turkish Lira against the US Dollar" has been the most common on all search engines around the world, particularly for those interested in Turkey's real estate market in general, so the big question now is: Is it a good idea to buy real estate in Turkey now, especially after the lira's decline?
Because of the depreciation of the Turkish lira, several foreign investors decided to purchase residential properties in Turkey, as they found the real estate prices favourable. Due to the lira condition, it is now possible to buy a luxurious property in some better locations of Istanbul for the same price as a typical property on Istanbul's outskirts earlier!
In addition, the real estate marketing officials in Turkey have explained that many of the real estate sales have achieved a great demand. Property sales in Turkey have risen in 2021 (in March) comparing to that time in the previous year. The numbers show that the sales to foreign buyers have climbed in March by 39%. Foreign buyers purchased 4285 units that month. In the first quarter, Iranians bought 1599 properties, Iraquis 1461 and Russians 938.
The general rule is that the annual real money growth rate is always higher than the decrease in the value of the currency rate, as we have seen and experienced in the Turkish real estate market in recent years, and as we will see in the coming years after the exchange rate stabilizes.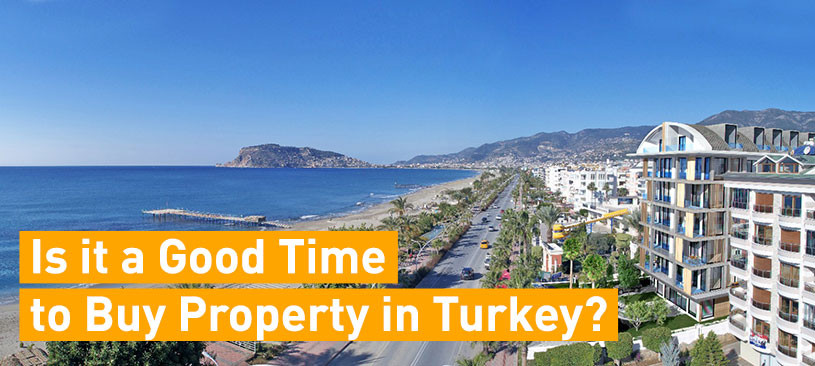 To sum up: Is it a Good Time to Buy Property in Turkey?
Investor trust in Turkey is at an all-time high, thanks to a high GDP, dynamic economy, a rising middle-class sector, a young population, and attractive tourism opportunities. Due to a regulation that went into effect in September 2018, the sector's growth rate accelerated, lowering the threshold for citizenship by investment down to 250.000 USD, which became a great opportunity for many foreigners. Learn more about Turkish Citizenship by Investment.
To conclude, purchasing real estate in Turkey is a good investment both short and long term. Despite the worldwide COVID-19 pandemic, the market presents a good opportunity, especially for foreign investors interested in buying real estate in Turkey.
More Information About Investing in Turkey
Since the process of property purchase in Turkey is simple and fast, real estate is an ideal investment option also for people from abroad. A significant percentage of property purchases are made by tourists who are enchanted by Turkey's elegance, lifestyle, and economic attractions. Being one of the most popular destinations for international real estate investors, Turkey continues to increase its popularity in every period.
Call us today if you'd like to talk with our estate agents about the real estate investment in Turkey, arrange a personalized online viewing or get more information about the Turkish real estate market.